Kohesi Bond's infographics library presents key information quickly to engineers for a better understanding of our products. We cover an array of topics ranging from product highlights to application guides, from adhesive properties to latest news from the industry, and more. View our infographics library to see what Kohesi bond has to offer.


AEROSPACE OPTICAL ELECTRICAL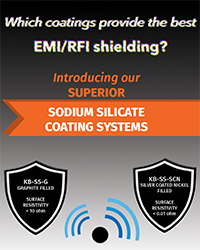 Which coatings provide the best EMI/RFI shielding?

Explore our sodium silicate based coatings that offer the superior protection against electromagnetic and radio-frequency interference (EMI/RFI) with the help of this infographic. KB-SS-SIL presents a silver filler that offers phenomenal shielding effectiveness. KB-SS-SCN containing silver coated nickel filler and KB-SS-G containing a graphite filler provide very good shielding effectiveness, along with cost benefits.